Our impact can be measured by the number of young people we help against the dollars you donate. Another powerful measure is a single story from one person whose life has been forever changed by our work. Below are a few stories from your impact in Seattle.
We're excited to announce the start of a new partnership with Cathedral Seattle for Two Feet Project youth.
One of the passions of Two Feet Project, in Seattle, is creating opportunities and connections for local youth to find meaningful employment in and around the Seattle area. Youth unemployment plays a huge role in the ultimate long term success of youth and we're committed to helping address this issue. It is our desire to not only help youth find work but to help them find work that will benefit them in the long term and build them up to positive influences in their current situation.
So at the start of February, we created a partnership with Cathedral to test out new employment opportunities.
Every Friday Jesse West (Pictured on the right) worked at Cathedral cleaning, organizing, and getting the event space set up for upcoming events. Jesse was not only given a competitive wage but also played a huge part in helping his community since 100% of the Cathedral's profits go towards local charities.

We look forward to continuing this partnership with more youth throughout the rest of the year. To find out more about how Cathedral is using it's business to give back, click here.
Stay tuned for more exciting employment partnerships! To help provide marginalized youth with employment opportunities donate today.
For many of the youth Two Fee Project serves and supports, one of the most important factors in a their ability to overcome their past and pursue self-sufficiency is a good living wage. Employment teaches responsibility, but it also offers stability. It provides youth with the resources to meet the costs of housing and basic living needs and the opportunity to invest in themselves through further education.
Unfortunately, for one reason or another, this reality is hard for many to achieve. That's why partnering with individuals and businesses in the Seattle area is so important.
Our goal at Two Feet Project is to match Two Feet Project youth with companies that care about young people, and have a willingness to invest in and empower their employees while they perform their job.
Local companies like Antigo Homes and Cathedral are examples of business partners that understand this goal and recognize the impact employment can have on the lives of Two Feet Project youth.
"I do feel that it is important to teach youth about hard work and earning what they receive. I think that we have a great opportunity to give youth a place to grow and learn life skill that can help with in the future." said Tyson Dodd, owner of Antigo Homes.
Nate Stone, founder of Cathedral, feels the same way, "We feel responsible as a local business to ensure our existence helps make the world a better place and we work actively to do just that in all areas. If we have an opportunity to provide a job, particularly for marginalized youth, we jump at the opportunity to invest in our community in that way. We are creatively discussing ways that we could work with them on future projects ourselves."
When local businesses are motivated by a desire to serve the immediate needs of youth and build them up to achieve their individual goals, the results are very powerful.
If you are interested in learning more about how your business can support local youth in this way, contact Two Feet Project at Twofeetproject@gmail.com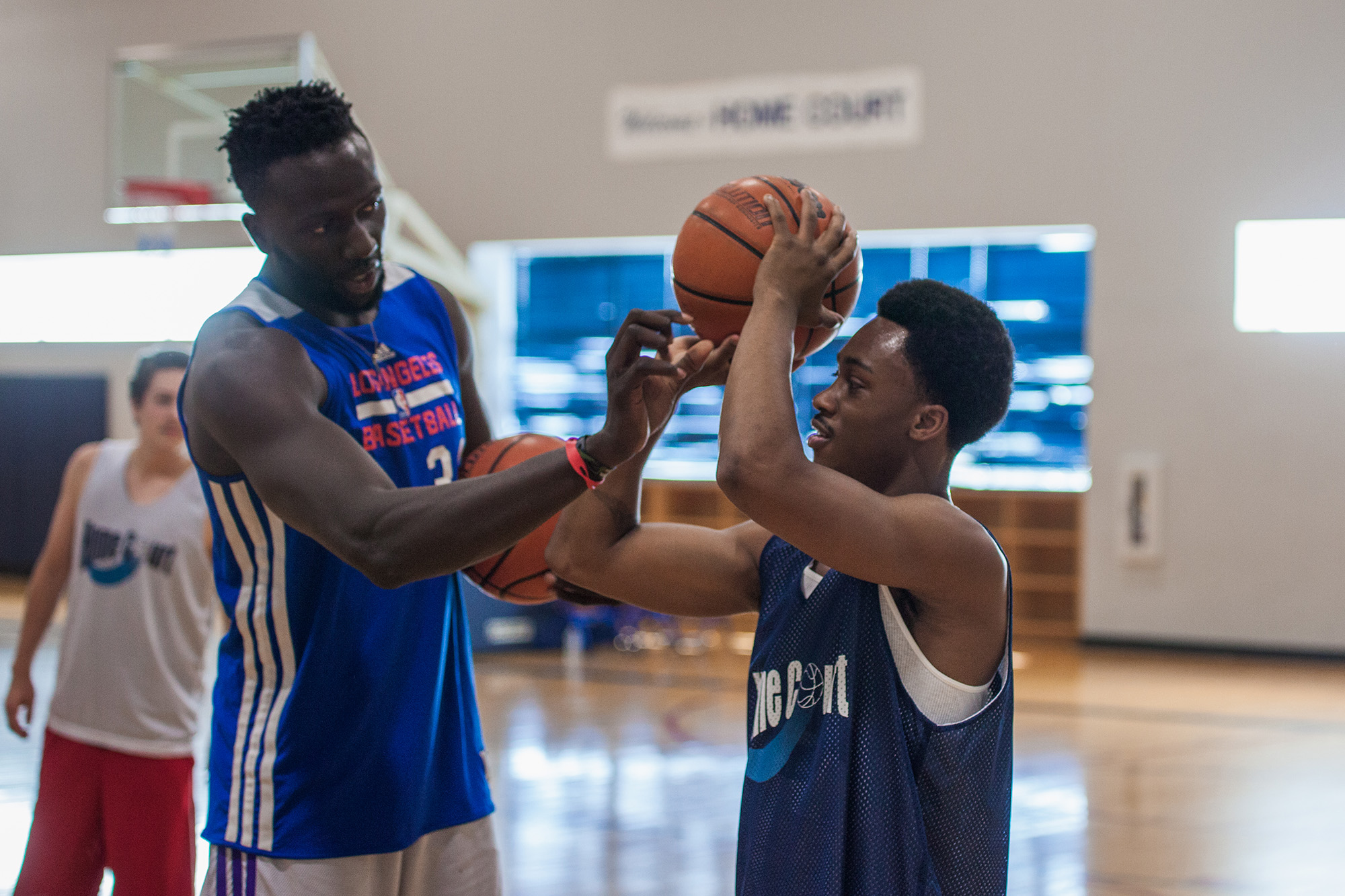 A Chance To Throw Down At HomeCourt
Several times throughout the year, TFP supporters from the community get together with a handful of young men from Kingsgate to play basketball, build relationships, and demonstrate a positive model for the young men to follow. Thanks to everyone who comes out to invest in the next generation. Our communities are stronger when we give back to those who need mentorship.
My name is Sung-soo Devine. I'm 19 and live in Kirkland, Washington. I am pursuing an associates degree in business at Cascade Community College, and I'm working full-time as a cook at Sawmill Cafe.
Two Fee Project comes down to the group home where I live and set up these big sports events to give the guy's a chance to get out the house and play sports or just interact with the community. I've participated every time, met new faces, and talked with the Two Feet staff about what they do.
I was able to go to a fundraiser with them and spoke a little bit about myself and also got to learn more about what the organization is doing in Kenya. Two Feet Project is really important there because they're giving kids an opportunity to pursue their educational goals. We take that for granted here in America, but Two Feet Project is opening doors there and it's really beautiful.
A lot of the kids back at my house are in the same situation—we feel excluded from our community. But Two Feet Project helps us interact back with the community, meet new faces, and gives us a feeling of acceptance. That's something we haven't been feeling for a couple of years.
After I spoke at the fundraiser, Two Feet was kind enough to bless me with a scholarship for my school. I was just so grateful for it—it's awesome reliving that moment and it was very impactful. However, after I got the scholarship, I decided to give it to the kids in Kenya and fund a couple of them to go to school for another year. I decided to do that because although the scholarship means a lot to me and it could have been very useful, it could be very useful to them. God had blessed me with a good job, and I could go to school for a quarter. But looking at these kids, they needed so much more than I do and the meaning to them was much deeper. It almost seems like my duty to spread the blessing. Every little bit counts.
The way I felt after I got that scholarship was crazy. I just felt so happy that these people care about me and they want me to succeed. I'm just trying to spread that feeling that I've experienced.
Two Feet Project is helping people all over the world by giving them a sense of community and just being reliable. Because at the end of the day, Two Feet Project has been around and they haven't just invested a little bit here and then left. Since I've been at the group home, they've been there the whole time and they offer community that supports you and that you can rely on.
So if you can help create that sense of a home or a community for kids around the world, or here in Seattle, I definitely recommend it. It's life changing. Donating to youth in Seattle benefits the donor because they're changing lives of the people that are in their community and as they grow, they can help strengthen your community to make it a well-developed one—a strong one.
Watch Sung-Soo's Story
Get Involved
You can join us in our work to support underrepresented youth in Seattle.